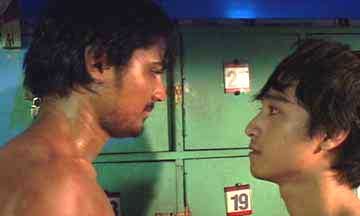 To Lex Bonife:
I know that you are a film writer, sometimes bit actor and definitely you are on top in terms of promoting gay themed movies. By the way, I had seen all your movies and I will have to say that if only gay themed movies were done in the same fashion that your tandem with Mr. Altarejos were, I can say that we are indeed making progress.
Now, for the loaded question. And I am really hoping and expecting that you will not ignore this one. What is your personal opinion of the films/videos that Cris Pablo does? I have seen most, if not all of his videos and I and many of my friends and acquaintances and even those I do not know will say that his films really leave an insult to one's intelligence.
Tell me, is that really his intentions on why he directs/co-produces videos under the Queeriosity project?
Honestly, I go all out in supporting Filipinos who are involved in this advocacy. However, I have yet to meet someone who has genuinely liked a Cris Pablo film aside from having gotten the chance to see naked bodies of young Filipino men who in fact, even if for this criterion alone, his films/videos will still fail miserably because as I have said, it creates such an insult to one's senses.
Lex, I am waiting for your honest reply to this. Thank you.
Johnson Chua
--------------------------
Hi Johnson,
Thank you for supporting the Filipino gay film industry. And thank you for watching the movies that I have written.
And now to your "loaded" question, Cris Pablo, for me, has aesthetics of his own. I enjoyed watching several of his films like "Quick Trip", "Boylets" and "Bath House". Although some of his works were not particularly appealing for me. If you find his films intellectually insulting, by all means you may stop watching all his movies. That is your right as a consumer.
But personally, I will continue to watch his films because I appreciate the way he deconstructs gay relationships and how he pokes fun on our identity and our society through his film language which sometimes borders on absurdity. I like his "devil-may-care" attitude in filmmaking, how he breaks the rules of morality and the glossy standards of filmmaking.
Like a brave gay man who proudly defies standards of morality, Mr. Pablo's films openly break the rules of Hollywood gloss and production values.
I guess, Cris Pablo is just an acquired taste.
Thank you for writing and please continue to support Filipino gay films.
Lex